ELECTRIC VEHICLE (EV) CHARGE POINTS
As the use of electric vehicles (EVs) continues to increase, the demand for residential and commercial EV charging stations is on the rise. Surrey, Worcester Park, Epsom, Sutton, and Banstead are thriving communities that embrace the transition to sustainable transport.

At AIE Electrical, our electrical contractors here are to help with any questions you have, please get in touch by calling us on 020 3659 6351 or 0791 4615 151.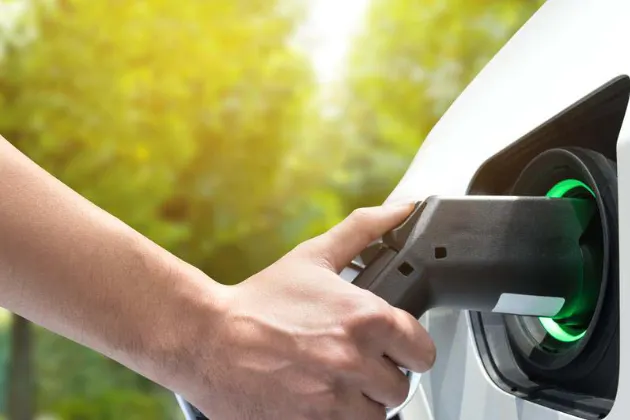 EV Charging Point Installation Services
We are proud to offer EV charging installation services of the highest quality. We recognise that proper installation is the foundation of a dependable and efficient charging system, and we are committed to delivering seamless solutions tailored to your specific requirements.

Whether you are a homeowner, business owner, or property manager, our qualified NAPIT accredited electrical contractors have the knowledge and skill to handle installations of varying sizes and complexities. To ensure that our installations adhere to all safety standards and guidelines, we keep abreast of the most recent industry developments and laws.

If you would like to browse through our previous installation projects in Sutton, Epsom, Worcester Park and Banstead, please head over to our gallery page.
You can also visit our reviews page to read through the reviews left behind from our previous customers.
Benefits of EV Chargers
Sustainable Transport
By encouraging the adoption of electric vehicles, EV adapters play a critical role in promoting sustainable transportation. By providing convenient and accessible charging infrastructure, EV terminals contribute to a cleaner and greener environment by reducing reliance on fossil fuels and greenhouse gas emissions.
Cost Savings
Compared to conventional gasoline-powered cars, electric vehicles offer substantial cost savings. EV chargers allow EV owners to charge their vehicles for a fraction of the expense of petrol refuelling. Additionally, off-peak charging rates and special utility programmes can provide consumers with even greater savings, making electric vehicles a cost-effective option.
Energy Independence
Electric vehicle outlets contribute to energy independence by decreasing reliance on imported oil and volatile fuel prices. Electric vehicles and their converters contribute to the energy security and stability of nations by utilising domestic electricity sources.
Air and Noise Pollution Reduction
Zero tailpipe emissions are produced by electric vehicles, resulting in enhanced air quality and decreased noise pollution. Chargers for electric vehicles facilitate the transition to electric transportation, mitigating the detrimental effects of vehicle emissions on public health and the environment.
EV Charger FAQs
How long does charging an electric vehicle take?
The charging time for an electric vehicle depends on a number of factors, including the battery capacity of the vehicle, the power output of the charging station, and the charging cable used. Fast-charging stations can typically provide a significant charge in approximately 30 minutes, whereas standard charging at home or in public may take several hours.
How much does it cost to install an electric vehicle charging station?
Depending on factors such as the type of charging station, the electrical infrastructure at the location, and any necessary modifications, the cost of installing an EV charging point can vary. At AIE Electrical, we provide customised quotes based on your unique specifications and undertake a comprehensive analysis to provide an accurate cost estimate.
Can my electric vehicle be charged at home?
Yes, your electric vehicle can be charged at home. We provide residential charging solutions that allow you to charge your electric vehicle overnight or whenever it is located at home. Our experts can evaluate the electrical capacity of your residence and recommend the optimal charging solution for your requirements.
Do I need special adapters or cables in order to charge my electric vehicle?
The majority of electric vehicles include a standard charging cable that is compatible with standard charging stations. For fast-charging stations or specific connectors, additional adapters or cables may be required. Our team can advise you on the appropriate charging accessories based on the model of your vehicle and the charging infrastructure that you intend to employ.
Which type of charging station should I purchase?
Numerous charging stations are accessible. The most common options for residential charging ports are 3.7kW and 7kW outputs. In many workplaces and public charging stations, 22kW units are installed, but they are rarely available for residential use. For hybrid vehicles, a 3.7kW recharge is typically required, whereas a 7kW charger is typical for all-electric vehicles.
The greatest difference between the two is the rate at which they charge your vehicle. A 7kW charging station will charge your vehicle faster than a 3.7kW station. However, several factors affect the rate at which your vehicle's battery charges.
Speak with electricians in Worcester Park
We are also available throughout Surrey, Epsom, Banstead and Sutton, simply get in touch by calling us on 020 3659 6351 or 0791 4615 151 and we'll be happy to help.