Bathroom Rewires in Worcester Park
Proudly offering our electrical bathroom rewires services across Sutton, Epsom, Banstead, Worcester Park and Surrey
Whether you're having a brand new bathroom installed or you simply want to correct any problems/faults with the electrical wiring in your current bathroom; here at AEI Electrical we can help. If you'd like to get in touch with us, you can do so by simply giving us a call on, 020 3659 6351 or 0791 4615 151.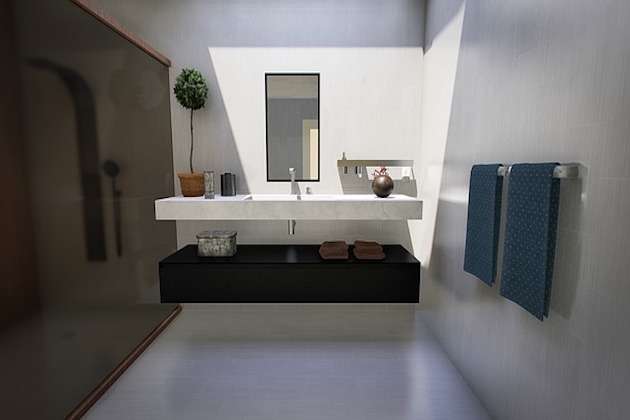 Electrical Bathroom Rewires in Worcester Park
Rewiring a bathroom has numerous advantages, including enhanced safety, enhanced functionality, and increased energy efficiency. It enables the installation of contemporary fixtures such as heated towel bars, spa-like illumination, and ventilation systems. In addition, rewiring your bathroom ensures that it can accommodate the electrical demands of modern appliances such as hair dryers, electric shavers and electric toothbrushes.
Signs that Indicate the Need for a Bathroom Rewire
There are numerous indications that rewiring your bathroom is necessary. Common indicators include flickering lights, frequently triggering circuit breakers, discoloured outlets, and the use of older wiring materials. If you experience any of these issues, or if the electrical system in your bathroom is more than a few decades old, it is recommended that you consult a professional electrician to assess the situation and provide a rewiring solution.

Why choose us to rewire your bathroom?
Before beginning the bathroom rewiring, our NAPIT approved electricians in Worcester Park, Epsom, Sutton, Banstead and Surrey will conduct a comprehensive evaluation of your electrical needs. They will consider the dimensions of your bathroom, the number of electrical appliances and fixtures you intend to install, and the total electrical load. This evaluation ensures that the rewiring project satisfies your specific demands and safety requirements.

Ensure Safety
Electrical safety is very important, particularly in wet and humid environments that a bathroom experiences. There are specific requirements for electrical shock and hazard protection in bathrooms. Inadequate wiring or grounding can result in severe catastrophes, such as electric shock or even electrocution. To mitigate these risks, adherence to electrical safety guidelines and regulations is essential which is what our electricians follow.

Fully Qualified and Experienced
In addition, we have over 10 Years of experience in the industry, with the right qualifications to offer great services. We are also NAPIT Approved, and fully insured and ensure all electrical work is completed to the highest standards and meets your requirements.
If you'd like to see the work that we've done for our customers, then head on over to our gallery page. To read the reviews that our customers have left, see our reviews page.

Contact Us For Bathroom Rewires Services
There are many reasons why you should choose our electricians in Banstead, Epsom, Sutton, Worcester Park and Surrey. If you'd like to get in touch, you can call us on, 020 3659 6351 or 0791 4615 151. You can also get in touch by sending us an email via our email address at, info@aeielectrical.com and our team will get back to you as soon as they can.z